Watch our full Vegas video here!
Hi everyone! I am officially back from Vegas and can't wait to share with you what exciting things John and I have done while away! Despite losing all my money on roulette, I still had one of the most amazing vacations to date! Because John surprised me with this trip for my 25th birthday we wanted to make sure we checked off everything on our bucket lists of things to do and see! With only three days and two nights in Vegas, we made it a priority to not only do everything on the strip, but to travel into the Grand Canyon. Here is what we did!...
What to See & Do:
1. Casinos - Even if you don't gamble, you need to check out all that the casinos have to offer. From flower gardens to a small outdoor zoo, the casinos have some of the most spectacular architectures and designs I have ever seen! We had stayed at Casers Palace, but my other favorites were the Wynn and the Cosmopolitan!
2. The Seven Magic Mountains – This has always been something I wanted to see since I was little! It is about a 30 minute drive outside of Vegas, but well worth it. I recommend not going during the middle of the day where the sun was beating down at 110 degrees. Sunset is when many people suggest to go, not only because it is cooler, but the landscape is that much more magical (see what I did there)?!
3. The Grand Canyon – You need to devote an entire day just to the Grand Canyon! John had booked through a company called, "Papillion Grand Canyon Helicopters" where they handled every aspect of the trip. With different options of things to do while there, we wanted to take the helicopter to and from the Canyon, take a boat up the river, and walk the glass Skywalk. The company picks you up from your casino and drives you about an hour outside of Vegas to the helicopters. After hoping on you have sights of Hoover Dam and Lake Mead. The helicopter lands in the middle of the canyon as you then exit to take a short boat ride. After the boat you yet again jump on a helicopter and fly to a place called the SkyWalk. This is a curved, all glass walkway that extends over the canyon cliffs. Not only are the views unreal, but it is definitely something for the adrenaline junkie in you!
4. The High Roller – This is the tallest Ferris wheel in the world overlooking the entire Vegas skyline! There are two options to ride in the pods. One is to just simply walk on and observe the scenery, while the other offers a full open bar as you make your way around! The prices vary, but if you are going to spend 45 minutes up in the air, might as well do it with a drink in hand! 
5. Restaurants – Vegas is known for having the best restaurants in the world, and they were not kidding! With only two days we decided to dine at Giada's Restaurant located in the Cromwell Las Vegas Casino & Hotel overlooking the strip. The second night we opted to have outside seating at The Bellagio Hotel & Casino called Prime Steakhouse. We sat on the patio and overlooked their breathtaking water show throughout our meal! 
6. Extras – If you have time don't miss out on looking at A Little White Chapel which was featured in many movies! And for all you Pawn Stars fans out there, The Gold and Silver Pawn Shop is a short drive from A Little White Chapel that was featured on TV. In addition, check out the Neon Museum where old Vegas signs are taken and displayed in a walkthrough exhibit outside, it makes for great picture opportunities!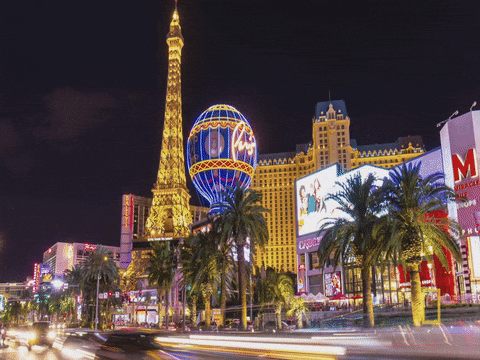 Every little detail we have done is not listed in the blog so if you have any questions or need help planning the rest of your Vegas trip, please feel free to leave me a message here or on my Instagram, @danimaiale! 
Please reload
I'm busy working on my blog posts. Watch this space!
Please reload