For when you just are feeling a little under the weather or need a healthy meal that lasts throughout the week, this loaded chicken noodle soup will be sure to satisfy with every mouthful! I was gifted a crock-pot in 2017, but have just recently decided to give it a try. I know, I know what was I thinking!? I also haven't been feeling my best as my allergies have made it nearly impossible to speak without sneezing. It also doesn't help that I never give myself time to relax and take it easy after a busy work day which leads me feeling absolutley drained. All in all, I was simply just craving some wholesome homemade soup to make everything better. Having some time over the weekend, I decided to channel my inner Bobby Flay and get cooking (lol I wish)!
Time to Prepare & Cook
Prepare time - 10 minutes 
Cook time - 6 to 7 hours in the crock-pot 
Crock-pot I am using - Click Here 
Ingredients
2 1/2 boxes of organic chicken broth - I used the Sprout's brand 
2 large boneless, skinless chicken breasts 
5 organic carrots - purchase the carrots that look like they came straight from the ground (not pre-chopped)
3-4 stalks of celery
1 large white onion 
2 boxes of pasta noodles - I purchased the Gluten Free (my boyfriend is GF) noodles from Ancient Harvest/Rotini noodles. But, you can simply use egg noodles, too! 
Salt & Pepper
Thyme 
Directions
Step 1: Empty the 2 1/2 boxes of organic chicken broth into the crock-pot. Cut up carrots, celery and onion and add it into the broth. Next, add the two chicken breasts into the pot. Place salt, pepper, and herbs into the mix - season generously. Place lid on the crock-pot and cook on LOW for about 6-7 hours.
Step 2: After 6-7 hours, take the two chicken breasts out onto a cutting board. You should be able to use two forks and pull the chicken a part with ease. Shred the chicken and then place it back into the crock-pot. 
Step 3: If you are cooking with gluten free noodles, I prefer to cook the pasta separately. You can also do this with normal pasta as well. Boil water in a pot on the stove and cook the noodles until they are al dente. Strain the noodles and then place them into the crock-pot with the other ingredients. Stir everything together, and you are ready to enjoy! 
If you have decided to make this recipe, please tag me in your posts (@danimaiale) so I can share!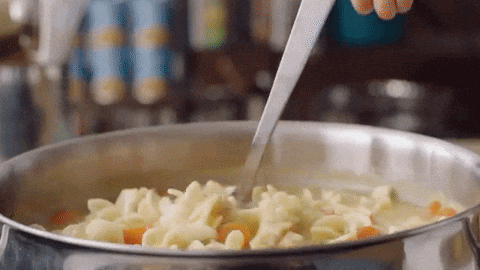 Please reload
I'm busy working on my blog posts. Watch this space!
Please reload